Please see below what EFT reconciliation statements features we have:
1. The ability to subscribe/unsubscribe to EFT reconciliation statements.
2. LodgeiT has background job service that automatically pulls EFTR reports from ATO every hour. User can fetch it manually as well.
3. The ability to automatically receive email notification with pdf copy of EFTR statement inside every time when the new EFTR statement is fetched. The user can set multiple email notification recipients in settings or turn it off if he doesn't want to get it.
It provides visibility over the identity of refunds processed to your trust account.
Main EFTR statements page:
Settings page:
EFT reconciliation statement details page: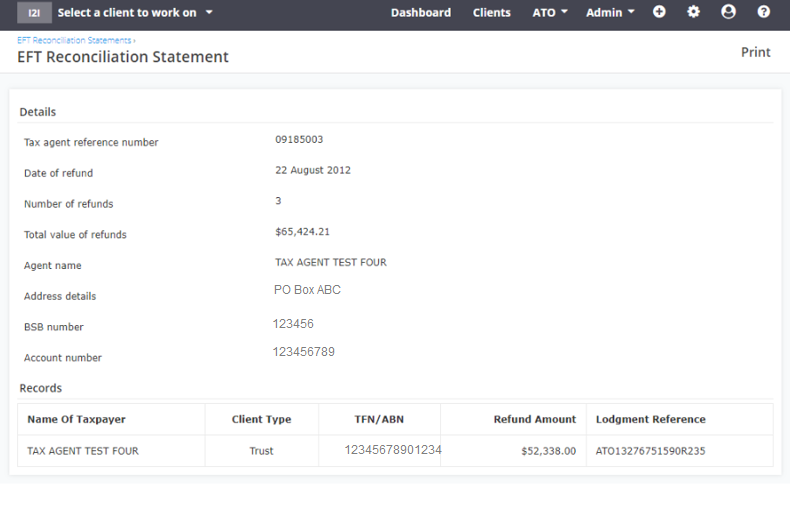 Note:
- EFTR is applicable for returns with REFUNDs only. This is where ATO will transfer the refund.
- ATO will not take money out of an account. The payment MUST be manually facilitated by the owner of the account.
FAQ:
Q: How to Retore EFTR "SBR Unavailable"?
A: "SBR unavailable" error on fetch EFTR report can either occur when ATO EFTR service is unavailable or there is no generated EFTR reports for the agent. LodgeiT has a background service that checks if any EFTR report is generated for the agent, so it automatically pulls new EFTR reports from ATO.
Q: Is it possible to have 2 different trust bank details for tax agent to subscribed to EFTR?
Answer from the ATO: Agents can only have one trust account per RAN at a time. Prior to subscribing to the EFT report, the agent uses the Manage Agent Trust (MAT) service to provide their trust account details.
The Manage Agent Trust (MAT) service allows Tax Agents to create, maintain and remove a Tax Practitioner's trust account.
Upon providing details of their trust account, this will then enable the Tax Practitioner to receive the EFT reconciliation report which shows details of each EFT refund sent to the tax agent's or BAS agent's nominated trust account.
Note, the EFT report provides details of refunds commencing from the date of subscription is receive. It does not provide backdated information.
https://www.ato.gov.au/tax-professionals/digital-services/in-detail/practitioner-lodgment-service-user-guide/?page=18#Subscribedreports
https://www.ato.gov.au/tax-professionals/digital-services/in-detail/practitioner-lodgment-service-user-guide/?page=18#Manageagenttrust
Related article: