Electronic Signing. It's when user sends e-sign requests via lodgeit.
Process:
Open your "Completed" form, and scroll through the bottom of the page. You have three Option:
1. Send e-signature - (Electronic)
Requesting E-Signature 
Once the form is  "Completed" you have an option to "Send e-signature"
Note: For "e-signature" request, you need to purchase signatures via Gear leaver > Billing
Upon clicking "Send e-signature" you can see this template. You have an option to tick/untick the box under "Print options".
Tick the "Save signed copy to files" to generate copy automatically in client's "FILES"
After clicking "Send", e-signature will send to client for signature, ITR status will now be "OutToSign".
LodgeiT will send an email for signing to your client,  they can sign the form either by using desktop or mobile phone.
Below is the copy on how they will receive the request.
The client need to click "Review & Sign", it will navigate them to the signing page.
They can use either desktop or Mobile handset for signing.
Select "click to sign", and start signing.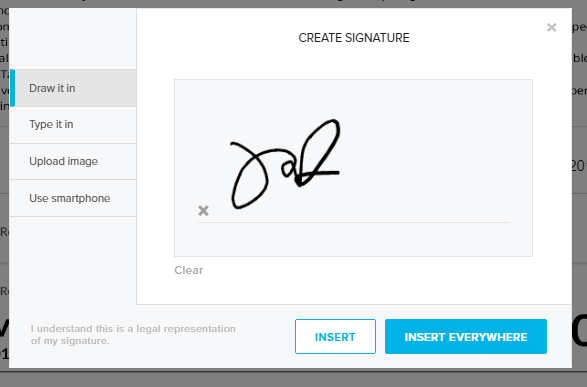 Click "Insert".
Here is the view of Signature inserted.
Advise them to review thoroughly all the pages that needs signature before clicking "Continue" and "Agree".
System will acknowledge the signature.
Once they completed signing the form, they will get an email confirming that they have been signed the form.
Signed copy automatically emailed to the client and loaded in Client's LodgeiT under "File".
Note that, client gets an email notification about signed form. The accountant or LodgeiT user DOES NOT. We will provide an email reminder in due course.
Note: Tax Agent Declaration signature is not actually required, click here to know more about.
2. Manual Signing.
Related Article: