Electronic Signing. It is when the user sends an e-sign requests via Lodgeit.
Tax form should be in "Completed" status -
Scroll through the bottom page, and press "Send e-signature"
Review and press the box according to your need-
Notes:
- For "e-signature" request, you need to purchase signature credits via Gear leaver > Billing
- Clients must verify themselves by either SMS code or birthdate on your choice.
- How to change e-signature signatory? Learn more here
*Untick "SMS Authentication" if you are unsure of the active mobile number of the client.
- Tick the box of "Save signed copy to files" if you want to automatically save signed tax form through client's "Files" tab in LodgeiT (see below point #9)
After clicking "Send", e-signature will send to client for signature. (How to change e-signature signatory? Learn more here)
ITR status will now be "OutToSign", but this stage, status is "awaiting" (awaiting for client to sign the form)
LodgeiT will send an email for your client to sign, they can sign the form either - using desktop/laptop or mobile phone.
Note: If the form is in "Awaiting Status", agent can still cancel or edit the form through clicking the lock icon. Esign link will also cancelled and client can no longer access the given link.
This is how the client receives the e-signature request -
1. They need to click "Review & Sign", to navigate them to the signing page.
Note: LodgeiT uses signatory's contact details (via clients "Settings") to send e-signature. Learn more
2. The receiver is required to provide either "SMS code" OR the client "Birthdate" -
Once OTP has been entered the LodgeiT remembers the client for 30min, so it's handy when a client has to sign multiple documents.
Note that, user can also view or download the document via-
3. It will navigate to signing page, they can use either desktop or Mobile handset for signing.
4. Must "click to sign", and start signing.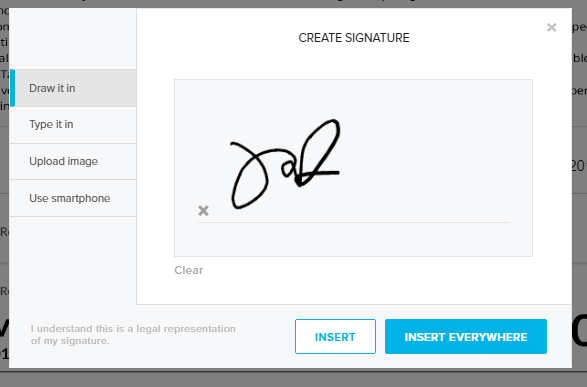 5. Click "Insert" or "Insert Everywhere"
Here is the view of Signature inserted.
6. Should review thoroughly all the pages that needs signature before clicking "Continue" and "Agree".
7. System will acknowledge the signature.
8. Once they completed signing the form, they will get an email confirming that they have been signed the form.
9. Signed copy will automatically email to the client's inbox and loaded in client's LodgeiT under "File". The agent will also receive a notification through their email with an attached document and a link to LodgeiT.
Additionally, you can add a common practice email to receive a copy of all e-sign notifications.
Once, client signed the form, it will now under "Signed" status. User can hover cursor on e-sign status to see who signed the document.
Click here on how to send e-sign reminder in bulk.
Note: Tax Agent Declaration signature is not actually required, click here to know more about.
The other way of sending tax form for client signature, click here Manual Signing.
FAQ:
Question: Is it possible to add an email as "CC"?
Answer: Workaround is to set up "Email Settings". If you are using your own mail server (gmail/microsoft) you can create your own rules (ie auto email forward, email copy for your team member). You will add the rule directly to your email settings.
Note: They only received the copy of the tax return, but unable to sign it.
Question: Can I attach other document via esign?
Answer: We don't have the feature yet to attach other documents via esign, we advise you to use pdf writer or online ie Nitro.
Related Article:
Process of "Out to Sign" using E-signature
How to notify signed tax form to other team members
How to send email directly to agent's mailbox
Signing Documents Electronically Under Corporations Act 2001