All SBR interaction depends on selecting LodgeiT as your preferred SBR Partner via ATO Access Manager.
Why do we need to connect?
Nominating LodgeiT as your software provider is a requirement that allows you to validate the tax return. As part of the integration agreement, it is a requirement that LodgeiT passes all SBR validations before exporting the annual return. This also provides the benefit of allowing validation issues when validating and completing a form.
******** Ensure you have MyGov ID prior to attempting this. **********
The video provides the guide:
Connecting LodgeiT from the ATO
How to use Access Manager
Click here to learn more about how to secure MyGov ID.
1. You have two options on how to connect LodgeiT to ATO:
A. Connect to ATO via phone, learn more here
B.Using Access Manager (proceed with the process)
Log in to ATO Access Manager using your MyGov ID
You need an app to get started. Learn more
2. Log in to your LodgeiT, Press "ATO" > Software ID"
3. Copy the Software ID and select "ATO Access Manager"
4. It will navigate you to ATO, select the entity that you want to connect to LodgeiT
5. Inside the ATO Access Manager, press "My hosted SBR software services"
6. Select "Notify the ATO of your hosted service"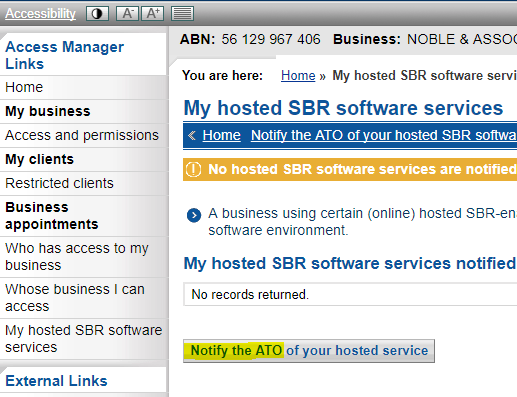 7. Search for Lodge iT ... note Lodge it has a space. Or search for the LodgeiT ABN - 98146732569
Click the ABN of LodgeiT to select-
8. Paste the software id that you copied from your LodgeiT
9. From the below example, you may find that "Lodge it Pty Ltd" added as one of my software provider.
10. Refresh your LodgeiT interface, should show as "Successfully connected to ATO"
If the issue persists, check the following:
Click the Gear wheel and select "Profile". Double check the details to make sure identification are match with the your ATO details.


Related Article:
SBR Connection to ATO via Phone