All SBR interaction depends on selecting LodgeiT as your preferred SBR Partner via ATO Access Manager.
********       Ensure you have a functional AUSkey prior to attempting this.   **********
Login to ATO Access Manager - https://am.ato.gov.au/ . Use Internet Explorer for this task.
Select My nominated software providers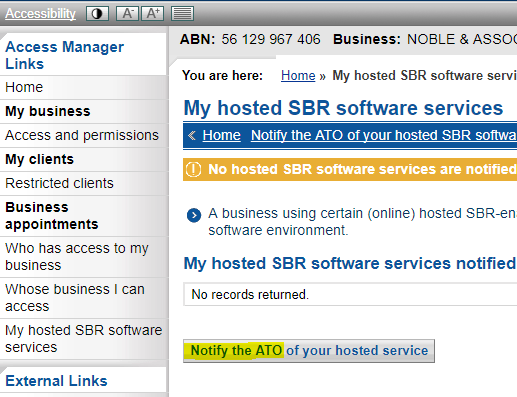 Search for Lodge iT ... note Lodge it has a space. Or search for the LodgeiT ABN - 98146732569
Click the ABN of LodgeiT to select-
Collect ID from LodgeiT via Software ID
Be sure to click NEXT and then SAVE after adding the ID.
Test the connection.
Possible reasons for failure -
a. You are attempting to connect the wrong entities. i.e. the ABN & in the case of tax agents & BAS agents, the TFN or BAN is not associated with the ATO AUSkey that you use to connect to the ATO Access Manager.
Related Article: