All SBR interaction depends on selecting LodgeiT as your preferred SBR Partner via ATO Access Manager.
********       Ensure you have MyGov ID prior to attempting this.   **********
The video provides the guide:
Connecting LodgeiT from the ATO
How to use Access Manager
Click here to learn more about how to secure MyGov ID.
1. Log in to ATO Access Manager using your MyGov ID
    You need an app to get started. Learn more
2. Log in to your LodgeiT, Press "ATO" > Software ID"
3. Copy the Software ID and select "ATO Access Manager"
4. It will navigate you to ATO, select the entity that you want to connect to LodgeiT
5. Inside the ATO Access Manager, press "My hosted SBR software services"
6. Select "Notify the ATO of your hosted service"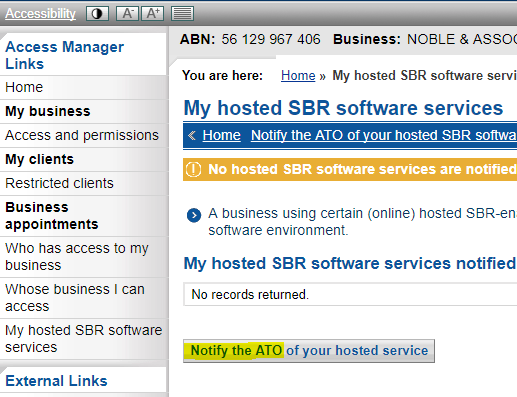 7. Search for Lodge iT ... note Lodge it has a space. Or search for the LodgeiT ABN - 98146732569
Click the ABN of LodgeiT to select-
8. Paste the software id that you copied from your LodgeiT
9. From the below example, you may find that "Lodge it Pty Ltd" added as one of my software provider.
10. Refresh your LodgeiT interface, should show as "Successfully connected to ATO"
Possible reasons for failure -
a. You are attempting to connect the wrong entities. i.e. the ABN & in the case of tax agents & BAS agents, the TFN or BAN is not associated with the ATO AUSkey that you use to connect to the ATO Access Manager.
Related Article:
Can a MyGov ID be Proof of Signing?