To get it into a rental worksheet on the tax form the user has to link it under Capital Allowances section.
Need a Depreciation Report for a Rental Property? Click here
First step is to configure the depreciation settings, learn more.
Make sure to complete the following information to avoid error in the forms.
Set-up Depreciation date
Before you can add an Asset, you have to set-up your "Depreciation date"
Go to (client) "Settings", click "Depreciation"
Note : "Depreciation date" should be the First month of the Year. ie. 1 July 2017 - 30 June 2018. Depreciation date is 1 July 2017
Creating "Group Asset" for Capital Allowance
Go to "Tools" and choose "Depreciation"
You will need to "Add" Asset Group.
From the upper right section you can also select "Add"
Make sure to fill the details correctly, you can choose appropriately from the drop-down options for every box. (exactly as you see below)
Name: (you can name your group whatever you like) Category: Rental properties Type: Plant & Equipment
*To avoid error, set-up exactly as you see below.
Adding Asset for Capital Allowance
After you added the Asset Group, you can now "Add" the Asset
Can also click "New Asset" located in upper right
In this Example we will add- "Washing Machine" with the purchase cost of $400 bought on the 5 November 2017.
Then click "Save".
Summary Report of the Asset
To check the summary of your Group Assets, go to "Reports" select "All".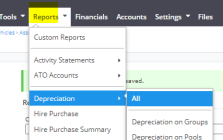 Be mindful of setting the dates in "Start date" and "End date". In this case, we are working for ITR2018.
After adding the "Asset Group" and "Asset", you have to associate or link asset to the Rental address.
Click here to know more about "Depreciation to Rental (ITR)"
To Add an ITR Form
In your Client window, click "Forms" then scroll over "Add Form" and choose "ITR Individual Tax Return".
In this example we will be working for ITR2018.
Create & Prefill
Select "Year".
"Lodgement Date" is automatic date from ATO, but you can also manage to change it if necessary.
It will navigate you in this window, an option to "Import Financial" or just "Skip this Step".
For this example just click "Skip this Test" or "Continue"
Financial image
Make sure to turn-on financial image "Rentals" and "Depreciation" to make this happen.
Then click "Save".
Under the "Income" tab you can able to see "Rent" that could validate you've turned-on the financial picture for that.
Adding "Rental" information
Add new Rental Address by clicking "Income" tab and choose "Rent" then select "Add".
Rental Address has been added.
After Adding the Rental Address, scroll down to find "Capital Allowance" then click "Add".
Clicking "Add" button will capture the Group Asset that you have added from "Tools > Depreciation".
Below image is the depreciation worksheet, click the "Search" button and choose your Group Asset from tab "Depreciation Group"
After choosing your "Depreciation Group", "Decline Value" will be automatically filled.
Viewing ITR Report
Go to "Forms"
Select your ITR Form
Click the tab "Income", and "Rent", Select the address.
Scroll over to the Form where you can see 'Capital Allowance", it has the same figure in the Report Summary.
Click "Validate" to find any error in your form.
If the form is ready click 'Complete".
Other Related Article:
Need a Depreciation Report for a Rental Property? Click here
How to Delete Asset Group and Asset?
Form Workflow Sequence and E-Signature