First step is to configure the depreciation settings, learn more.
Make sure to complete the following information to avoid error in the forms.
Add ITR Form
In your Client window, just add "Forms" and choose "ITR Individual Tax Return". In this example, we will be working for ITR2018.
Create & Prefill
Select "Year".
"Lodgement Date" is automatic date from ATO, but you can also manage to change it if necessary.
It will navigate you in this window, an option to "Import Financial" or just "Skip this Step". For this example, just click "Skip this Test" or "Continue"
Turn-on Financial picture "Depreciation" and "Work Related Expense" or some other you think is relevant, and click "Complete"
In the ITR Form, choose "Deductions" tab and click "Job Expenses" as sub-tab and fill "D1-Car Expenses", start to add details about the Motor Vehicle.
Click to know more about Keyboard navigation on forms
Navigate through a form via TAB, ENTER and SPACE. Learn more from our videos here.
To calculate Business Km you just have to put Total Km and Business %.
Note:
Therefore Depreciation, Lease & Interest costs (for business purposes) are NOT part of motor vehicle expenses.
Before you can add an Asset, you have to set "Depreciation Date"
Go to (client) "Settings", click "Depreciation"
Note : "Depreciation date" should be the First month of the Year. ie. 1 July 2017 - 30 June 2018. Depreciation date is 1 July 2017
Adding Asset Group
Navigate to "Tools" and click "Depreciation"
You will need to "Add" Asset Group.

From the upper right section you can also select "Add"
Make sure to fill the details correctly, you can choose appropriately from the drop-down options for every box. (exactly as you see below)
Name: (you can name your group whatever you like) Category: Motor vehicles (Business/Non-business) Type: Motor vehicles
*To avoid error, set-up exactly as you see below. The only difference should be the "Name".
Adding Asset
From the upper right section you can also select "Add"
In this Example we will add- Hyundai with the purchase cost of $16,000 bought on the 1 August 2017.
Then click "save"
Summary Reports
Go to "Reports" select "All"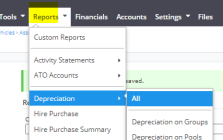 Be mindful of setting the dates in "Start date" and "End date". In this case, we are working for ITR2018.
Summary Report
Click HERE to know how to deactivate depreciation, or how not to show depreciation through tax form.
Viewing ITR Report
Go to "Forms"
Select your ITR Form
ITR 2018 Form, Click "Deductions" tab, "Job Expenses", and select "Car Expenses" then click the Motor Vehicle that you created.
Upon clicking the "Hyundai" scroll over to the "Depreciation"
Click "Add", "Asset Name" is readily available because Asset were already Added.
Press your Keyboard-Tab to see the amount "Decline in value".
Click "Validate" to find any error in your form.
Once the form is ready, click 'Complete" button.
Related article:
Delete/Remove or Edit Asset and Asset Group