Before adding any form, navigate to client "Settings"
Settings --->General Settings ---> Contact Details Settings ---> Tax
Then you can proceed adding a form
Select Form that you need
Select "Year".
"Lodgement Date" is automatic date from ATO, but you can also manage to change it if necessary.
You can click "Import"
LodgeiT has the ability to import "Empdupe"

To know more about "How to Import Empdupe"
Form will be automatically populated with facts stored in Client Settings.
"Whom to use as a person to contact" - in the case of the "Agent" select Agent.
Make sure that you've set up Agent's information via the upper right (Gear leaver > Settings), LodgeiT will populate details from there.
If you prefer "Client" as contact person.
Make sure that you've set up Client Setting, LodgeiT will populate information stored from there.

Payment Summaries
Add "Payees" details.
Note:
-"Payee" can either be in LodgeiT (as Client) or you can manually type in the name and details.
-To avoid error, make sure to fill-in information ie.  Address, TFN, Period Start date and End date.
Same process for the other "Payee's" / Individual non-business
Summary view of "Individual non-business", with 3 individuals.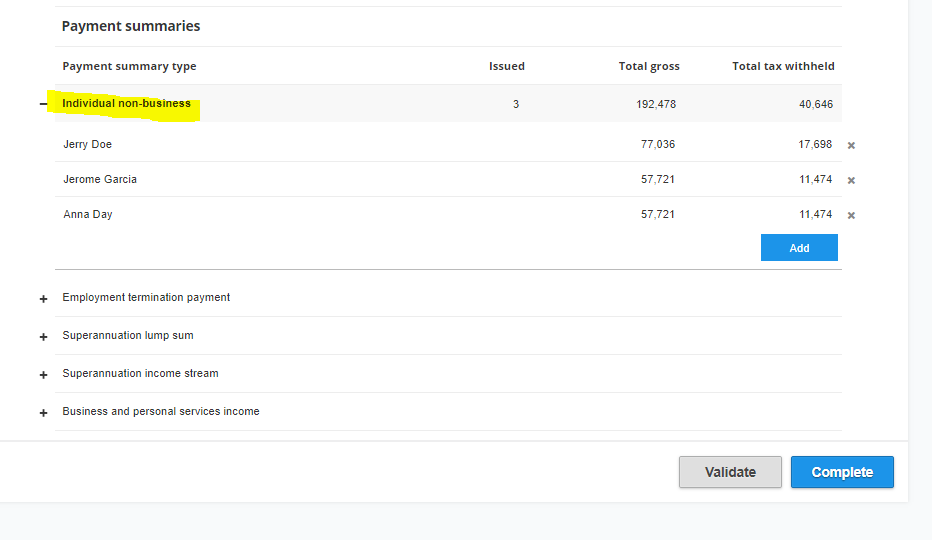 Click "Validate" to check missing field or error, then select "Complete" if form is ready.
It will notify you if the form has error or form is Valid.
Checkout some of our Help guide on:
Form Workflow Sequence and E-signature