The video explains on how to buy a package and signing credits (e-signature).
Top right of your LodgeiT interface, click "Gear wheel" and select "Billing"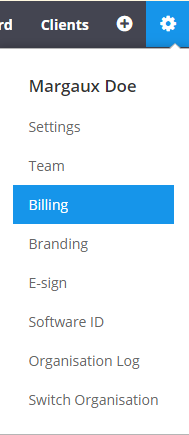 Choose the plan that suited for your firm and click "Subscribe"
Click here to view full list
**You may use LodgeiT for free, purchase a plan once you are happy and ready to lodge.
Refund and return policy here
Once ready to purchase, set-up your bank details through "Payment Information", and press "Pay" to proceed.
Note:
E-sign credits will be available to buy once subscription becomes active.
Unused credits will NOT carry over to the next subscription plan.
Use this portion for "Discount code" if any.
Click here to read more about Terms & Conditions.
Related Article:
How to renew a LodgeiT subscription plan
How to change a LodgeiT subscription plan
How to cancel LodgeiT subscription plan